I lose count of the times that I actually pinch myself when I am presented with the truly humbling opportunities that this sport offers me. The wonderful energy that racers show me when I speak to them. The smiles and laughter when I share my own brand of RC comedy and passion with the world is better than any drug money can buy. I was recently blessed with a really unique opportunity. I had been planning to make a pilgrimage over to the wonderful off-road racing venue Robin Hood Raceway last summer. Unfortunately, my trip over to the land of Sherwood never happened. So, imagine my delight when I finally got the chance to speak with the man who has been responsible for not only creating the now world famous RHR venue...but also the same man who has performed the very pinnacle of off-road alchemy....James Helliwell, designer and creator of the UK's biggest off-road dirt racing track!. Fresh from this summers success of the oOple Invernational, James was eager to discuss how he has poured his heart and soul into the construction of RHR Dirt. This man has already contributed to how we all enjoy our sport in spade loads....and he just contributed even more...this time by the truck load! ;) Mr James Helliwell....share your wisdom please Sir.....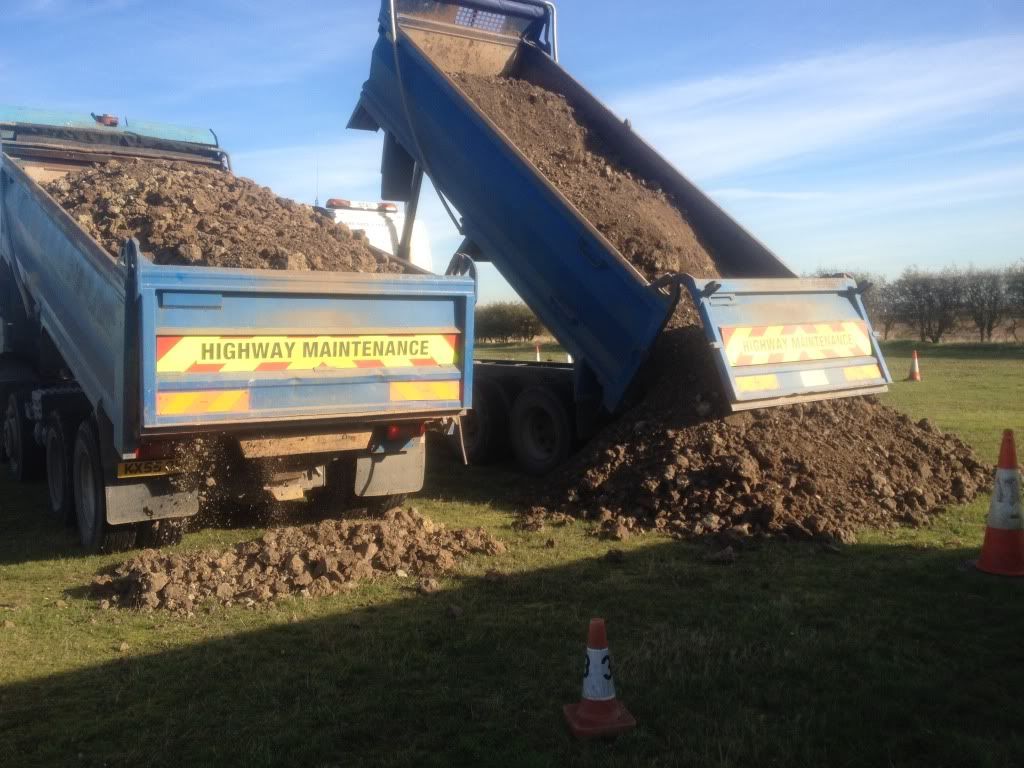 RHR Dirt...the first delivery arrives!
ORRC
- When did you first fall in love with off-road RC? Tell us the story?
James
- My interest in R/C all started when I was 11 (in 1988!), we heard on our local radio station of some R/C car racing in the car park of a pub in Worksop (The Three Legged Stool) so dad took me along to watch. A couple of weeks later I'd got my first car - a Tamiya Thundershot. These were the early days when there were very few permanent tracks - mostly grass fields where the pipes would be laid the day of the meeting. There were two Worksop clubs; Bassetlaw Buggy Club and Worksop Radio Car Club, I raced at both of these regularly. Eventually the Bassetlaw club closed down so we became more involved in WRCC and offered them a permanent venue on a field on our farm - which is where Robin Hood Raceway and RHR Dirt are still located over 20 years on! I had a 7 year gap off racing when I was at university, when I came back to it though we re-formed Worksop Radio Car Club and re-started the Schumacher Worksop Masters series along with Mark Musgrove and Leon Morrell as well as the renovations for Robin Hood Raceways Astroturf track.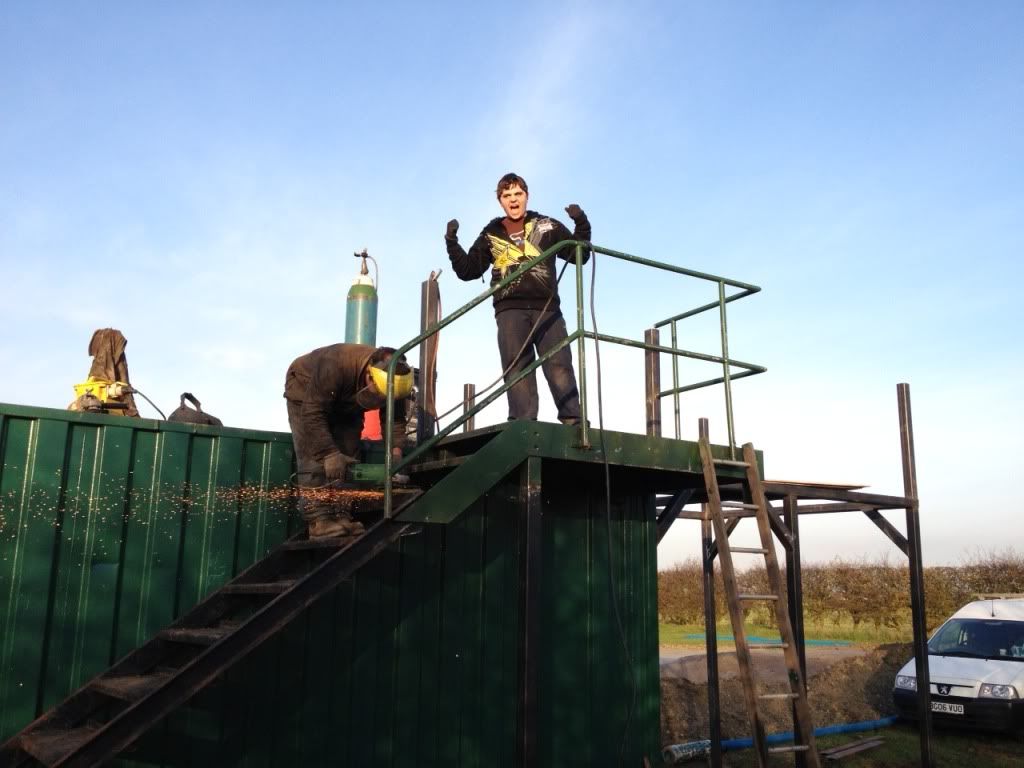 The sparks fly at RHR Dirt long before the racers even get there!!
ORRC
- Did you always have the vision that you wanted to build a Nationally recognised race track? Or was it a more 'organic' process?
James
- RHR or originally Worksop's outdoor venue held its first national over 20 years ago so its been on the national radar for a long time. We always wanted to make the place the best it could be but manpower and funding were the big limiting factors, the track was also unused and fell into disrepair from late 2003 until we did a little 8th nitro racing there in 2005 - so up to this point you could say the club and tracks growth had been organic. In 2006 however we decided to approach the whole thing in a more business like manor and invest some private capital and team up with York Off Road Car Club who also invested cash to complete a total renovation of the AstroTurf track and facilities into hopefully one of the premier venues in the country. I've always wanted to make the place the best it could be, problem is it all costs money!

RC history in action...early stages of RHR Dirt
ORRC
- Name your favourite off-road racer of all time and tell us why?
James
- I don't really want to pick just one but in terms of 'famous' racers I admire Masami for his long term dedication, success, professionalism, off track manners and politeness and relentless promotion of the sport. I like racing against anyone though and I have some great mates in R/C so its hard to pick a favourite from someone I 'know'.
ORRC
- Do you think the essence of an outdoor track is lost if it is partially covered to protect from the elements such as some of the race tracks in the United States. They often resemble a cattle shed.
James
-Yes I do, I think dirt tracks are definitely better outdoors if the weathers good; the light levels, increased chance it will blue groove, bigger layouts and general feel are better. The only reason I have looked at covering RHR Dirt is due to our wet climate.
ORRC
- Can you explain the process that was undertaken when selecting the surface clay for the new RHR Dirt track?
James
- I took samples of clay from every dirt track from home and abroad that I visited, I also asked well travelled racers to bring back samples whenever they were away. Each of these samples I formed into miniature 'slabs' and dried them on my cooker to see how they would crack, how crumbly or elastic they were and generally how they would react as they were wet and dried. We decided that Vaasa's surface was the most universally liked and if it was good enough for a world champs it was good enough for us so we went for something very similar. It took a while to find it in the huge quantities we required but I'm sure we got the perfect stuff.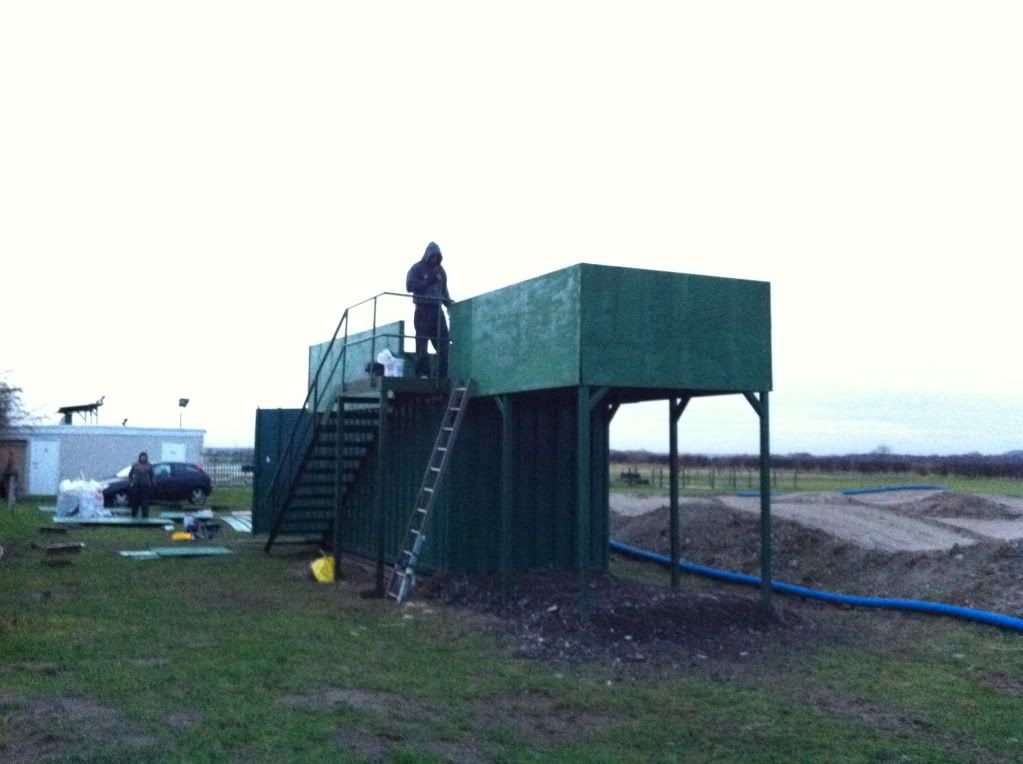 The rostrum takes shape as the rain hammers down
ORRC
- If you could choose one class to race forever, what would be your preference? 2wd? 4wd? Would it be 10th scale? Explain why?
James
- 4wd 10th off-road. I do really like the finesse of 2wd and generally do better with it but I like to go as fast as possible and love the 4wd drift, especially on clay.
ORRC
- Now that your facility has two National level tracks, have you considered large scale meetings that utilise both surfaces within one meeting? Astro one day and dirt the next?

James
- Personally I hadn't considered anything more than the oople race on dirt and a sideline class like the vintage race on the astro, but I've had several people suggest to me that we could hold the ultimate Reedy Invitational race - half on dirt half on astro, should mix it up a bit for the dirt only American drivers vs Europeans who are a bit more at home on astro! We have some big events in the pipeline for the dirt track in 2013, watch this space ;).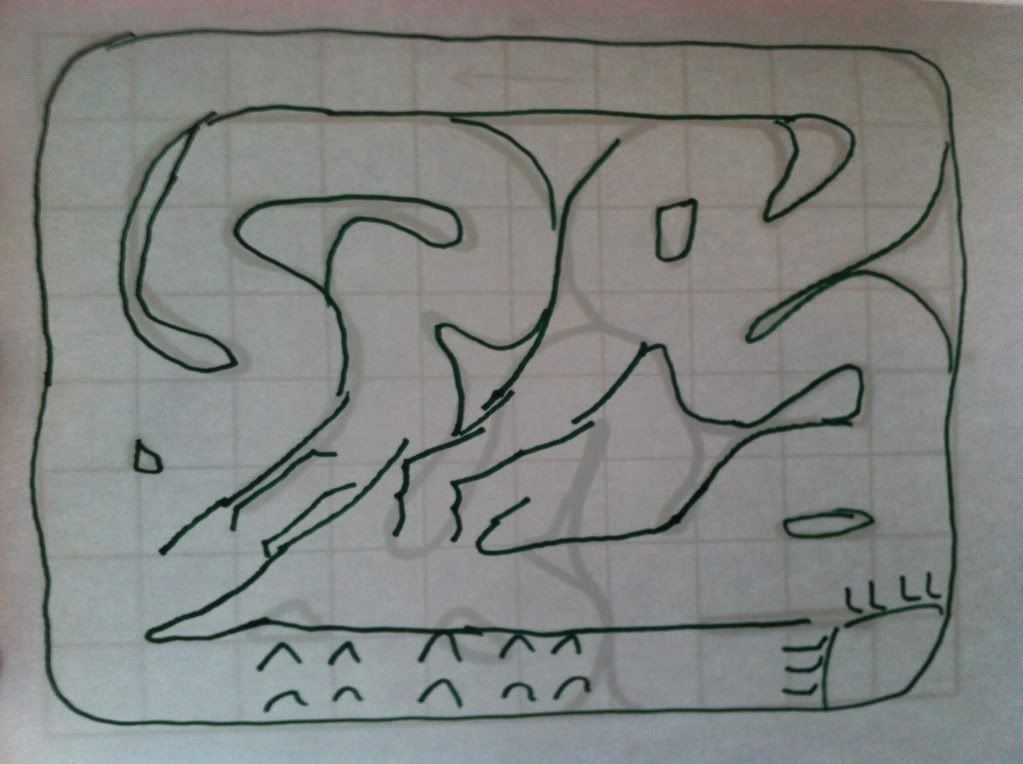 Far from a basic doodle...the start of the Dirt planning
ORRC
- What or who do you consider to be your biggest inspiration in the world of RC and why?
James
- My fellow racers - doesn't matter who they are. I do especially like and think its important to keep racing against the best drivers though otherwise how do you ever improve. I find the constant product innovation across the industry as a whole inspirational too. In my early years Mike Reedy gave me a few motors and that encouragement from such a well known R/C icon really gave me motivation. I find seeing people take the challenge of forming a new R/C business inspirational too.
ORRC
- If you had to pick one track feature as your favourite, what would it be and why?
James
- I like the big double-double under the rostrum at RHRD and I'm generally a fan of step-ups wherever they may be! I think the sports surface at Worksop is brilliant, and quite like the concrete section at EPR too..
All hail the king of Dirt!!
ORRC
- RHR Dirt has a control tyre, this being the Proline Holeshot. Do you feel that other manufacturers who create dirt spec tyres will be disappointed that their tyres can not be tested on the UK's first large scale dirt track?
James
- The track is open for private test sessions to anyone, so other tyres as long as they are of a compound designed for dirt can be tested, but all race meetings held must be on Proline Holeshots, this is a long term arrangement we have with Proline and won't be changing anytime soon.
ORRC
- When you stand on the rostrum and look across your multi-track venue can you describe the feeling you get?
James
- Jeez building that was hard work, how on earth did we do it! Immense satisfaction. Very appreciative of everyone that has helped build and maintain the place, it wouldn't happen without the small dedicated team.
ORRC
- Is there a specific time you can describe during the journey you have taken with RHR as a whole venue, that you almost gave up? Explain what made you stick with all the hard work?
James
- No, never. Its very hard, both in terms of grafting and physical work and tremendous amounts of organising and paper chasing but its the same with everything, if you want something to succeed you need to keep at it.
When James has his hands full creating Dirt heaven...he drinks his tea like this!
ORRC
- If you could describe RHR as a sound what would it be and why? ;)
James
- 'Bang!!' - the site used to be a clay pigeon shooting ground before it was a race track! Or maybe 'Howl', as it always seems to be windy up there!
ORRC
- What are your thoughts about the possibility of RHR Dirt running a Euro meeting in the future?
James
- We'd love to do that! We can do it, I think we've proved that, we have a great team behind RHR. We have hotels nearby, an airport 5 miles away, local amenities etc it would be great. Sunshine = dirt track , wet = astro track - the last two euros I've been to have been massively affected by weather so that can't be an excuse for the UK not to hold the Euros again.
ORRC
- Can you name your favourite off-road buggy of all time and explain why?
James
- Yokomo Works 93. I raced one for ages and knew it inside out and it looked great, fond memories.
You will sit still pesky dirt!
ORRC
- What are the most consistent qualities that you see in the very top off-road racing stars? The guys who grace your podiums season after season?
James
- Consistency in the following - motivation, practice, knowledge, plus a bit of natural talent never goes amiss.
ORRC
- Name 3 up and coming racers who you feel will be in the spot light in the near future?
James
- Greg Williams, Jack Neal, Ashley Caunt
ORRC
- Can you explain a little more about the type of machinery that is used when constructing a large scale outdoor race track?
James
- We're very lucky in that we have a farm and lots of machinery we can use for the dirt track, to hire it would have added thousands to the construction costs. Regularly we use a Caterpillar telescopic loader, John Deere tractors and trailers, a ride-on Benford vibrating roller plus whacker plates and an excellent machine called Richard Coates ;) and a lot of graft by hand with pickaxes, rakes and shovels. I also had to hire a 360 excavator when were loading the clay, plus 35 lorry loads to bring it on site.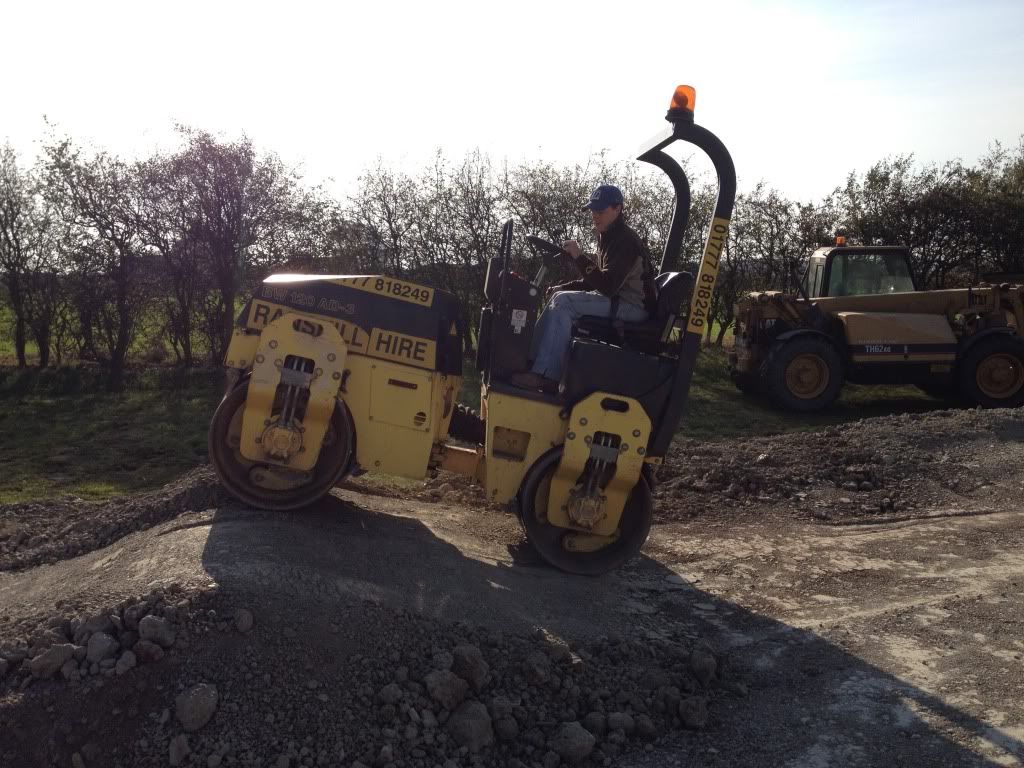 Getting air when testing the new jumps was not exactly straight forward ;)
ORRC
- Do you think that past attempts at dirt tracks in the UK have lost favour due to the prevalence of racers adopting mid-motor cars? Are British racers now conditioned to race high-grip artificial surfaces or do you feel that dirt could be the future? If so, how does the British climate figure in this future? Clay doesn't like rain I hear?
James
- I think past dirt track have lost favour due to high levels of maintenance and construction and ongoing cost - astro is so easy to maintain and cheap to keep in comparison. The cars are developed to suit the tracks, not vice versa. Astro will always rule in the UK due to the climate, we have simply provided a clay track so the option is there if people want to run on it. I was slightly scared of wet weather on the clay track until we held the 'Dirty Weekend' in September for which the track was damp - honestly I thought it was better than when it was bone dry at the oOple race. The covers are still an essential though, a downpour would wreck the track and marshall safety would become an issue. I like both surfaces personally :)
ORRC
- Name 3 people you admire within the sport and please explain why?
James
- 1.Anyone who runs an R/C club.. They do not get enough praise, 2.The merry band of national racers who travel up and down the country each year - their knowledge and advice passes down through club, they're a great bunch and the depth of driving talent and dedication in the UK is excellent, 3. Jimmy and Vicky oOple (I'll count that as one), oOple is the best resource for 10th R/C, simples.
Beautiful....
ORRC
- Do you favour a track that has big air opportunities and fast sweeping sections or a track that is more flat and technical?
James
- Big air and fast sweepers everytime!
ORRC
- I believe Graham North was a big driving force in the design of the RHR astro track, who played a role in designing the RHR DIrt track?
James
- Yes, Graham essentially designed RHR astro, and a great job he did too! I designed the dirt track.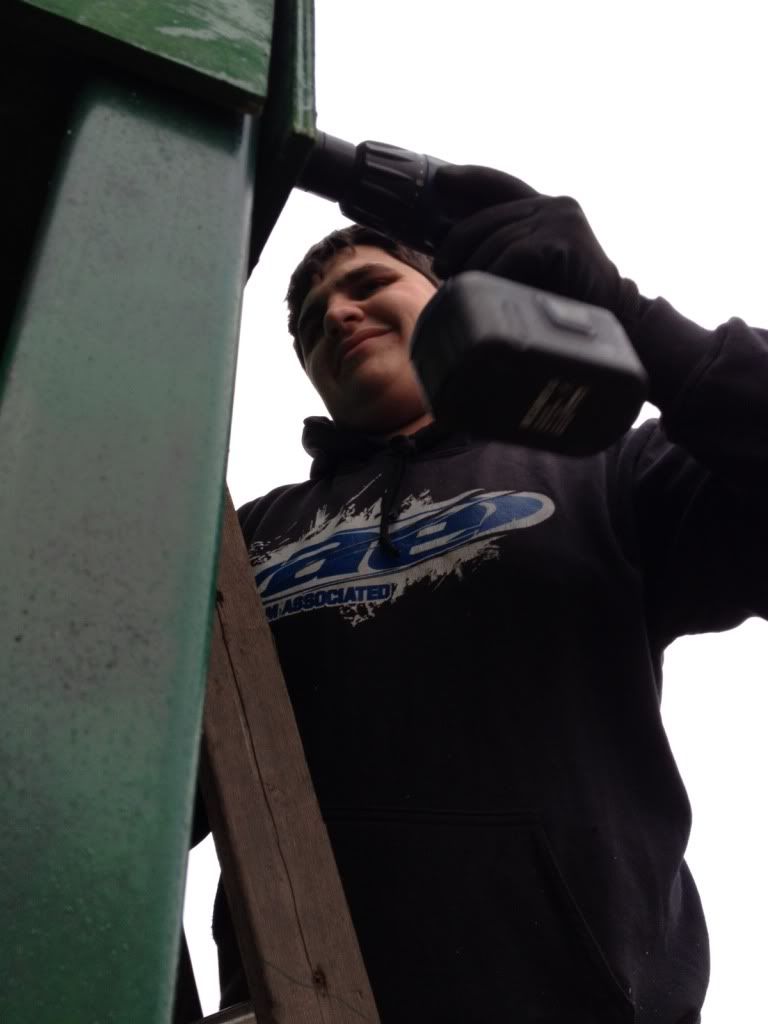 Ben Jemison gets stuck in as part of a really dedicated team who helped James create off-road Nirvana
ORRC
- Have you any future plans for RHR facilities that you can share with us?
James
- We have 4 big meetings scheduled for next year for the dirt track, the oOple race will be back even bigger and better. We'd like to put a roof on the RHRD rostrum and get a better cover for the clay. We want to replace some astroturf on the other track and slightly tweak part of the layout. Other big projects which are in the early stages are a medium sized undercover pitting area and we may upgrade and incorporate the cafe facilities into this.
ORRC
- Name the most exciting race you have either taken part in or watched at your venue and explain why?
James
- I guess when I finished 2nd in the last leg of the 2wd A this year at the BRCA national must be up there. The first race on the dirt too at the oOple Invernational was very special and exciting after all the hard work too :)
Testing time as the clay settles in
It goes without saying that James Helliwell and the amazing team behind everything that now resides over at RHR are a real solid example of how our sport continues to grow. Imagine the passion and dedication, let alone the financial trust it must require to embark on such a massive project. James and his team will go down in British RC history for their collective achievements...and in my opinion not just for creating an amzing race venue, but also for showing the world that team work and community spirit are planted firmly at the core of how RC has developed. We all don't just 'do' RC......we ARE RC! Every last one of us.
My thanks go to James and the rest of the guys who made RHR happen. I will be there soon folks...put the kettle on as I feel we still have so much still to talk about. I salute you all.
Thanks to Jimmy and Vicky over at oOple.com for not just allowing me to use some of their images, but also the tireless work and passion that they share with us all. Much love guys :)